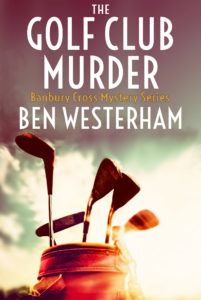 the golf club murder
Who would have thought golf could be such a deadly game?
When two players stumble upon a dead body in a bunker on the thirteenth hole of their favourite golf club, their discovery is about to set in motion a series of events that will lay bare some of the less savoury aspects of the human condition.
Inspector Leslie Dykeman and the irascible Sergeant Stanley Shapes find themselves engaged on a case that will drive them to distraction as they begin to investigate the murder of a man who seems, at first sight, to have had no enemies. But first sight, they will discover, can be a deceptive thing, especially when deceit, greed, envy and desperation are at work.
The Golf Club Murder is the fifth book in a classic murder mystery series set in the Oxfordshire town of Banbury in the early 1960s by British author Ben Westerham.
Purchase your copy now, curl up on a sofa and lose yourself in a classic murder mystery that comes complete with a touch of romance and a streak of humour.